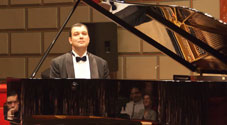 Nicolae Dumitru
(piano)
About Nicolae Dumitru
Nicolae Dumitru (born in 1968 in Bucharest) has his debut in 1987 on the Romanian Atheneum main stage in Bucharest, with the A Major Piano Concerto KV 488 by W. A. Mozart. Under the guidance of Maestro Dan Mizrahy, he is granted in 1990 a scholarship at the "Gnessin" Musical College in Moscow, where he studies under Irina Naoumova until 1993, when he is admitted as a student on a grant by the Romanian State at The "Gnessin"Russian Academy of Music, which he graduates in 1998 at the class of professor Mihail Sayamov, under whose guidance he will also spend the next three years of aspirantura (1998–2001). In all the years passed in Russia, he has the benefit of the constant and attentive training by the prominent Russian pianist and teacher, professor Emmanuel Monaszon.
He performs as a soloist with the Moscow State Philarmony under Vladimir Ponkin, the Omsk and Belgorod Philarmonies, the Kishinev State Philharmony, the "George Enescu" Philharmony and the Radio State Orchestra in Bucharest (with whom he delivers a premiere of a "live" performance of the Concerto for piano and orchestra by Antonin Dvorak), guest soloist of the main Romanian philarmonies.
In 2009 he is invited to perform the d minor Piano Concerto by Brahms in the "Bucharest Proms of Delight" Festival.
His concert repertoire, although not very large, has both overall "hits" like Concerto n.1 by Brahms and Concertos nr.2 by Rachmaninov and nr.2 by Saint-Saens, and also "rarities" like the Piano Concerto by Antonin Dvorak and The Four Pieces for Piano and Orchestra by Chopin.
In these years he is invited to perform piano recitals in Stockholm, Vienna, Baden am Wien, Lisbon, Madrid (EU Cultural Week), Barcelona, Budapest, Venezia, Rome.
During the Chopin Bicentennial Year (2010) Nicolae Dumitru is invited to perform in festivals such as "The Palaces of Saint Petersburg" in Russia and Accademie d'Aix-en-Provence in France and in numberous concerts in Romania under the aegis of The Polish Institute. These culminate with a grand gala concert in the Summer Theater of the Herastrau Park (Bucharest) with the National Radio Orchestra under Jin Wang, when Nicolae Dumitru performs in Romanian premiere two piano and orchestra pieces by Chopin: Variations on "La ci darem la mano" op.2 and Rondo a la Krakowiak.
In the Franz Liszt Bicentennial Year (2011) the Institut Francais in Bucharest invites Nicolae Dumitru to perform a recital in the Bucharest Metro — "Grande Journee Liszt — Liszt dans le Metro".
In 2013 Nicolae Dumitru starts a broad national project of educational recitals in 15 cities of Romania under the general sponsorship of Raiffeisen Bank Romania.
Video with Nicolae Dumitru
Press about Nicolae Dumitru
Nicolae Dumitru is an extraordinarily gifted artist, exhibiting a technique both rich and detailed, a vast variety of colors and a subjugating personality.By pointing out details that reveal his high class, he proves to master nuance both in the subtle and delicate and in the powerful and tumultuous moments.
"Diarionews" nr.861, Madrid
Photos of Nicolae Dumitru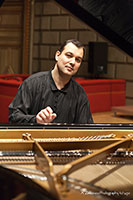 Photo credit: A. Zincenco